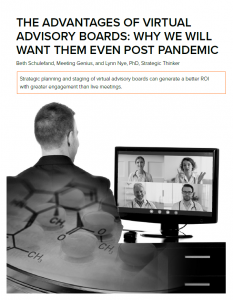 The Advantages Of Virtual Advisory Boards: Why We Will Want Them Even Post Pandemic
Strategic planning and staging of virtual advisory boards can generate a better ROI with greater engagement than live meetings.
This whitepaper builds on our well-established advisory board process and provides examples of virtual advisory board formats that optimize engagement and enrich feedback while minimizing time spent in online meetings.
If the white paper did not automatically download please click this button.